Carbon + Ekoa Fiber Tubing
Ekoa® + Carbon Fiber ◾ Elegant & Earth-friendly ◾ Natural Composite Tubing ◾ Ecological Meets High Performance
Ekoa composites are a great solution for demanding applications. First and foremost you'll notice the unique natural grain finish that adds a timeless style and benefits such as low density - Yes, even lighter than carbon fiber. Natural flax linen fabrics and prepregs are appropriate for nearly every project with a better feel, through weight reduction and vibration damping.
Ekoa Benefits
Ecological - Like all composites, Ekoa is made of fabric + resin, BUT is plant-based rather than from fossil fuels. CO2 negative fiber and eco-resin is worker and planet friendly.
Vibration Damping -Natural damping enhances product feel by absorbing higher frequency vibrations. Low density Ekoa offers 3x the vibration damping of glass and 20% more than carbon.
Lightweight -Our natural composites are 15% lower density than carbon fiber. Ekoa's stiffness-to-weight ratio surpasses aerospace fiberglass (E-glass) perfect for most demanding applications.
Performance -Ekoa may look like wood but it offers a rare blend of high performance and aesthetics resulting in simply better products that are stronger, lighter and with a better feel.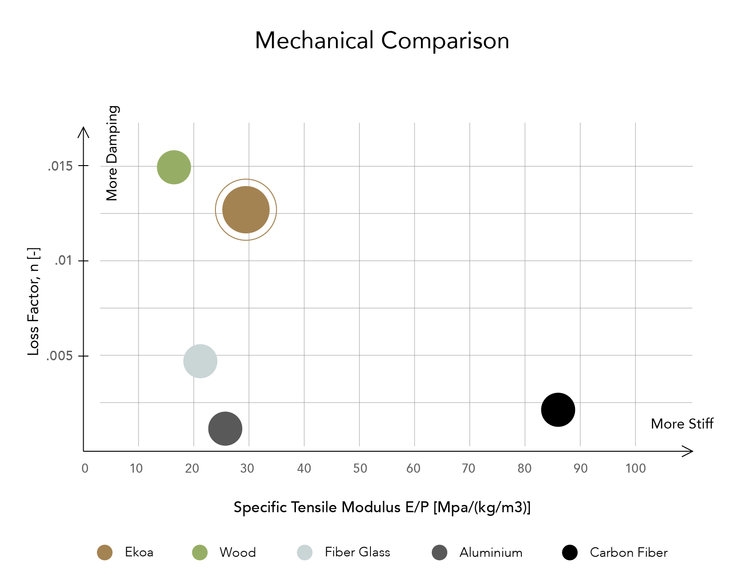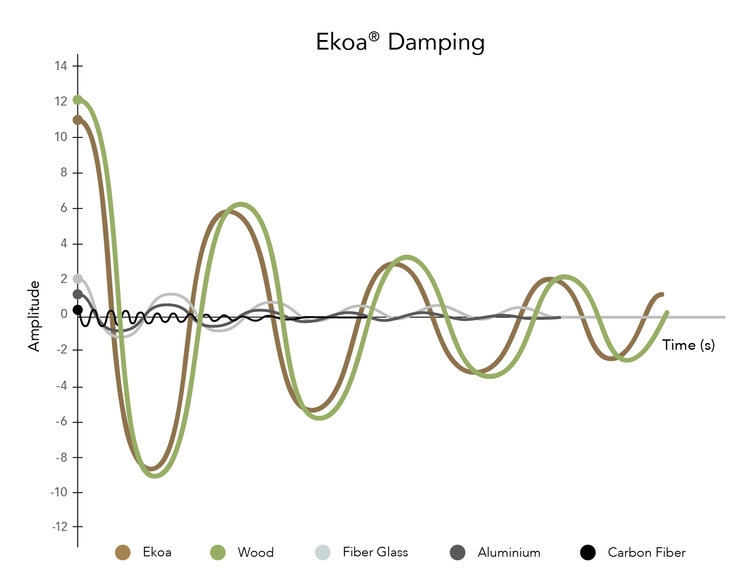 Vibration Damping With Ekoa - With 20-30 % higher specific stiffness than fiberglass, Ekoa composites exhibit three times higher damping than carbon and fiberglass.
Ekoa as core layers - Applications requiring the stiffness and strength of carbon—such as a high-performance bicycle frame— can be greatly improved by replacing some carbon plys with Ekoa. Ekoa is light, has great structural properties, and can be processed in one-shot with carbon fiber.
Ekoa as fascia layer - Ekoa composites are naturally very strong and stiff besting the stiffness of fiberglass. Solid laminates as thin as 1/16th" (1.5mm) can be used for structural applications.
Available in nearly every standard tube diameter - Browse and let us know which size you need!
Carbon + Ekoa Fiber Tubing Products