Frequently Asked Questions
For a visual comparison of our products and finishes, view Stock Product Finish Options OR scroll down to view instantly.
Q: Do you have a catalog?
A: In an effort to be as eco-friendly as possible we do not offer a printed catalog. All of our available product, pricing structures and ordering can be done online.
Q: I am in Utah. Can I come visit the facility or pick up my order?
A: Yes. For local orders please place the order online prior to coming in. The order must be placed online before Noon MST for the order to be ready same day and available for pick up at 4pm or later. You are welcome to stop by anytime during our business hours to view our facility and see our products in person. Our business hours are 8am – 5pm Monday through Thursday. 8am to 3:30pm on Fridays. If you are a school wanting a tour, please email us at info@rockwestcomposites.com.
Q: Do you sell to the public?
A: Yes. Our pricing structures are the same for both business and individual customers.
Q: As a business can I get a discount?
A: Our pricing structure is based strictly on product quantity. These low prices are available to individuals and businesses equally. RWC prices and discounts are subject to change without notice and do not include any state or local taxes. Buyer shall pay, in addition to the price of the goods, all applicable taxes and excises unless Buyer furnishes RWC with a valid "Reseller Number" or copy of tax exemption certificates. Prices are quoted and payable in US Dollars. All orders are subject to applicable shipping, freight, taxes, and handling charges. Read More
Q: Is there a minimum order?
A: No. However we do have required lengths. Most of our tubing is sold as full length tubes (72") and sometimes smaller sizes (sizes will be listed in the length field). The filament wound tubes are sold per foot.
Q: Can I make an order online if I am an international customer?
A: Yes. Our online ordering system allows for international shipments. These are subject to additional charges due to importation and customs fees. Rock West will not be responsible for reimbursement of these fees unless Rock West shipped erroneously. On occasion the charges automatically collected by the website may not be sufficient for the service. In this case we will reach out to you to collect the difference.
Q: What forms of payment do you accept?
A: All purchases must be prepaid either by a major credit card, a bank debit card or by PayPal. We accept MasterCard, Visa, and American Express.
Credit terms: All orders are subject to credit approval. Unless otherwise agreed to in advance, terms are NET 30 DAYS FROM DATE OF INVOICE. Rock West Composites (RWC) may require full or partial payment or payment guarantee in advance of shipment whenever, in its opinion, the financial condition of the buyer so warrants. RWC reserves the right to assess a service charge of 1.5% per month on unpaid balances, until paid. Buyer shall be liable for all expenses, including attorney's fees, related to the collections of past due accounts. RWC reserves the right to withhold shipment of materials pending resolutions of past due account balances and the right to revise credit terms based on credit history. Read More
Q: Do you charge sales tax?
A: Orders made within Utah & California will be charged sales tax. Utah & California businesses should email their Sales Tax Resale Certificate to us info@rockwestcomposites.com prior to making an order to avoid being charged sales tax.
Q: What methods of shipping do you offer?
A: The majority of orders are shipped by United Parcel Service (UPS) Ground. When checking out online you can request 3 Day Select, 2nd Day Air and Next Day Air.
Q: How much is U.S. shipping?
A: Shipping costs are determined by the following: weight, lengths and exact zip codes. You can expect to pay anywhere from $15 - $30 dollars for UPS ground shipping.
Q: How long will it take me to get my order once placed, processed and shipped?
A: Most orders placed will be processed the following day. This applies to Next Day Air and any other expedited services. If you must have an order ship out SAME DAY, then please phone us prior to 12pm MST to determine whether or not we can fulfill your request. Here is a UPS Ground chart. On occasion, we may be temporarily out of stock on an item, in which case we will in good faith keep you updated and give an expected lead time for production. We cannot guarantee that all product is available and ready to ship. We do our best to keep enough inventory on hand to fulfill anticipated orders although occasionally a large order will come in that depletes particular items. If in question, please call us at (801) 566-3402 to check inventory status.
All goods are sold FOB RWC shipping point. Goods may be shipped in a single shipment or multiple shipments at RWC's discretion. RWC will attempt in good faith to meet estimated shipping dates but shall not be liable to Buyer for any loss or damages due to delay caused by RWC.Read More
Q: Do you ship internationally?
A: Yes. Our international order policy is as follows: We will only ship through UPS. Shipping rates will be dependent on location. International shipments are subject to additional charges due to importation and customs fees. Rock West will not be responsible for reimbursement of these fees unless Rock West shipped erroneously. Please email us at info@rockwestcomposites.com if you have any questions.
Q: What is your return policy?
A: Please refer to our Policies page. Read More
Q: Does Rock West Composite have a distributor near me?
A: Not yet. Our products are only offered to you directly from our Utah facility at this time.
Q: Do you manufacture your products?
A: Rock West Composites manufacturers the overwhelming majority of the product you see on our website here in Salt Lake City, Utah. There are select products that we distribute such as adhesives and fabrics.
Q: Which is the stiffer carbon fiber tube ... Unidirectional Tubing, Fabric Tubing, or Filament wound tubing?
A: Unidirectional and Fabric tubing will be slightly stiffer (in bending) than the Filament Wound tubing. Each of these processes inherently produce different tube stiffnesses due to different fiber wrap angles (or lay-up). Filament wound tubing is generally better for torsional (twist) applications while Unidirectional and Fabric tubing is generally better for bending. Read More
Q: How much stiffer is a carbon fiber tube than an aluminum tube?
A: Carbon fiber is typically 1.4-1.5 X stiffer than aluminum, everything else being equal.
Q: How much lighter is a carbon fiber tube than an aluminum tube?
A: Carbon fiber is 2/3 the weight of aluminum. (or 1/3 less).
Q: What is the difference between a Unidirectional tube and a Fabric tube?
A: Not much ... the only difference is the outside fabric layer. The unidirectional tubing is exactly the same as the fabric tubing with the exception of the last "decorative" layer. Unidirectional carbon is the no frills, structural backbone. The fabric layer is primarily cosmetic but does add some structural integrity related to impact resistance and toughness. Also, the fabric outer layer helps contain fraying of fibers during any machining process (like cutting or hole drilling). Read More
Q: "Sanded" Vs. Unsanded "Cello Wrap (gloss)"?
A: The biggest difference between these two finish options is surface smoothness and visual appearance.
Unsanded Cello Wrap (gloss) - This is offered as our standard finish, the texture of the tube can be described as "ribbed" and is dark gloss black.
Pros: Hard/tough surface, great for general abuse, looks good too.
Cons: Outer diameter tolerance not as easily controlled.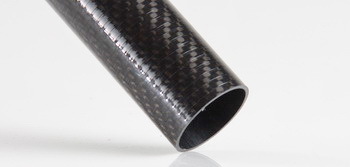 Twill Fabric - Unsanded Cello Wrap (Gloss) | Pictured directly above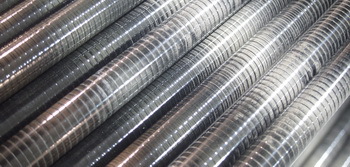 Uni - Unsanded Cello Wrap (Gloss) | Pictured directly above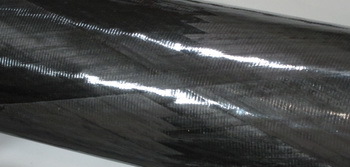 Filament Wound - Unsanded Cello Wrap (Gloss) | Pictured directly above
Sanded - Provides a smooth surface finish and a matte gray visual.
Pros: Sanding enables us to dial in an outer diameter however this may distort the pattern on the fabric tubing if a specific OD is requested.
Cons:- Sanding removes the "protective" outer layer of cured resin, exposing the raw fiber. This does however provide a paint ready surface so that you can apply any type of UV resistant / clear gloss paint coat.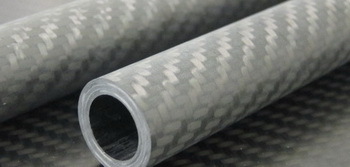 Twill Fabric - Sanded smooth matte | Pictured directly above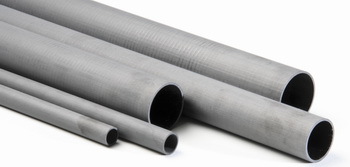 Uni - Sanded smooth matte | Bicycle Tubing | Pictured directly above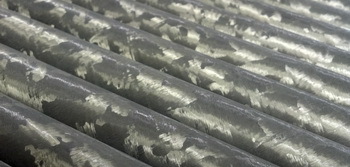 Filament Wound - Sanded smooth matte | Pictured directly above